...

Folding machine FPMR for round pipes
Folding machine for the manufacture of air ducts of rectangular cross section and shaped parts.
Фальцепрокатный станок ФПМР для круглых труб

1,070.00 x 570.00 x 920.00 mm
Our rebate rolling machine makes all the main types of seams for work related to the manufacture of air ducts and drains. With rollers for production of a lying fold (works on the principle of the folding machine).
Only our machines are equipped with an edge-bending nozzle for production of radial flange.
It serves in the formation of shaped parts of air ducts.
Description:
The folding rolling machine of the FPMR model - the equipment of the folding type. Universal, mobile machine for use in production shops and on construction sites with a possibility of fast readjustment and production of direct and curvilinear branches. As a rule, it is used for production of elements of air ducts and drains. It differs in high accuracy when performing operations. Processes different workpiece thicknesses.
Additionally:
The cost of this machine already includes an edge-bending nozzle. Superstructure from above "Kromkogib" (Flaring head) "for hire of a rebate" Angular flange "on radial surfaces (flange, corner) for rectangular branches 90º (It goes in the FP and FPMR model)
Advantages:
1. rolled rollers are heat-treated;
2. possibility to roll 6 types of a seam without readjustment;
3. mobility and compactness;
4. high productivity;
5. Folding rollers are made of special high-quality steel, with additional volume hardening.
Rollers for a round pipe of MR - serve for production of rebate connection (lock) only 7 mm wide,
that allows to save metal at production of drainage systems and air ducts -
for example, from a sheet of metal with a width of 2 m, 6 gutter pipes D 100 mm are obtained, ie the cutting of the sheet is optimized.
In addition, a small seam 7 mm wide looks more aesthetically pleasing.
Main types of seams:
+ Rollers for lying rebate MR
Corner Flange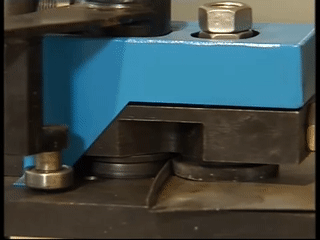 C-rail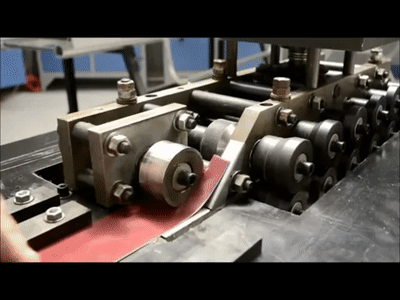 Pittsburgh Fold and Mating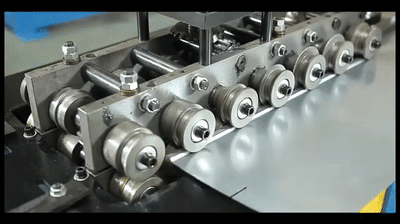 The warranty for equipment and accessories is 1 year. We deliver equipment throughout Russia and the CIS!

Folding machines
Profiling speed, m / min
11 m/min
Number of pairs of profiling rollers
7+7+6
Metal thickness, mm
0.5-1.2 mm
Power, kW
1.5 kW
Main characteristic
Dimensions LxWxH, mm
1070х570х920 mm
Weight, kg
290 kg