Folding machine for the manufacture of air ducts of rectangular cross section and shaped parts.
Фальцепрокатный станок ФП

1,070.00 x 570.00 x 920.00 mm
Our rebate rolling machine makes all the main types of seams for work related to the manufacture of air ducts and drains. There are two variants of the machine - usual with 6 types of seams and the second with rollers for production of a lying fold (works on the principle of the folding machine).
Only our machines are equipped with an edge-bending nozzle for production of radial flange.
It serves in the formation of shaped parts of air ducts.
Description:
The folding rolling machine of the FP model - the equipment of a folding rolling type. Universal, mobile machine for use in production shops and on construction sites with a possibility of fast readjustment and production of direct and curvilinear branches. As a rule, it is used for production of elements of air ducts and drains. It differs in high accuracy when performing operations. Processes different workpiece thicknesses.
Additionally:
The cost of this machine already includes an edge-bending nozzle. Superstructure from above "Kromkogib" (Flaring head) "for hire of a rebate" Angular flange "on radial surfaces (flange, corner) for rectangular branches 90º (It goes in the FP and FPMR model)
Advantages:
1. rolled rollers are heat-treated;
2. possibility to roll 6 types of a seam without readjustment;
3. mobility and compactness;
4. high productivity;
5. Folding rollers are made of special high-quality steel, with additional volume hardening.
Main types of seams:
__________________

Standing fold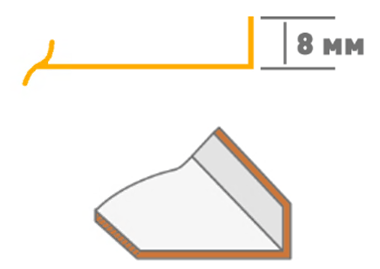 Standing seam - used as a counterpart to Pittsburgh seam, single standing seam, double standing seam
__________________

Single standing seam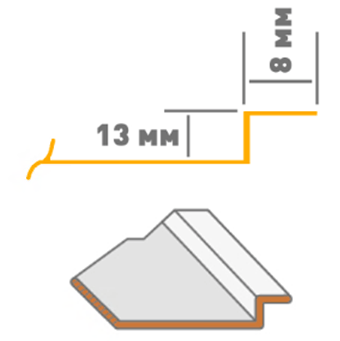 It is used to connect picture strips of metal roofs. As an example - standing seams are arranged along the roof slope
__________________

Pittsburgh Fold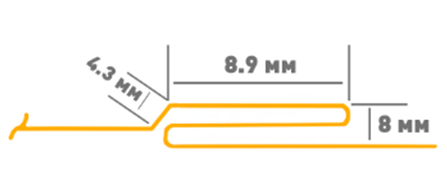 Pittsburgh seam (corner, American) is the most common method of producing rectangular ducts, both straight sections and shaped parts
__________________
Reclining fold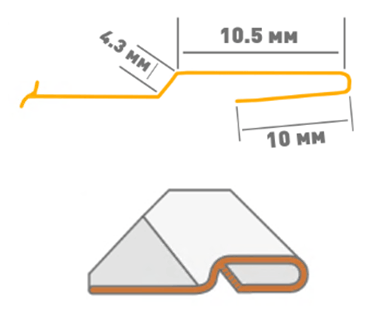 Reclining seam (longitudinal) - is used for the production of downpipes, as well as round and rectangular air ducts.
__________________
Interconnecting rail


C-rail - the easiest way to connect rectangular ducts, reducing the cost of production. Very effective for laying ductwork in tight spaces
__________________
Standing seam along the radius (flanging)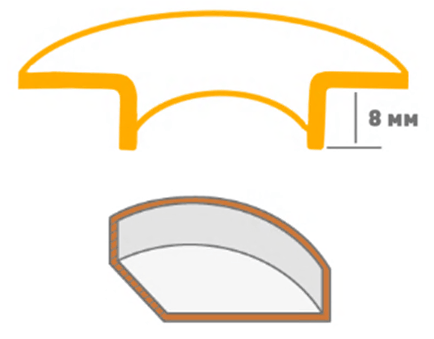 Flanging is an additional operation with a curved seam joint.
Corner Flange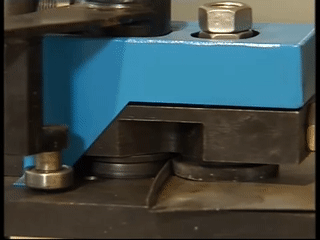 C-rail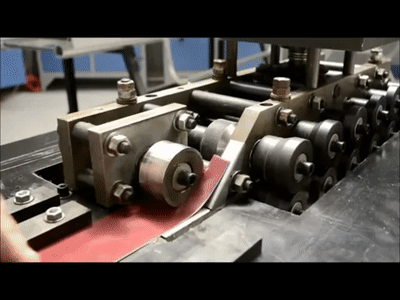 Pittsburgh Fold and Mating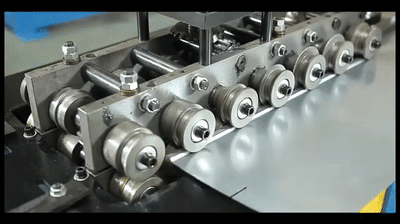 We know that there are models of cheaper machines.
Here are the main differences between our machines and these models:

1. Quality of machine tools: different alloy of rollers and table top is made of pressed shavings, not solid.

2. Characteristics: the competitive machine does not work on metal up to 0.7. begins to jam the metal itself, there are also complaints about the quality of the seam when the recumbent fold settles through the folding machine - the seam is simply not fixed, i.e. does not hold the lock itself.

3. It is not possible to upgrade the machine to perform 8 types of folds due to additional. rollers.

The warranty for equipment and accessories is 1 year. We deliver equipment throughout Russia and the CIS!

Folding machines
Profiling speed, m / min
11 m/min
Number of pairs of profiling rollers
7+7+6
Metal thickness, mm
0.5-1.2 mm
Power, kW
1.5 kW
Main characteristic
Dimensions LxWxH, mm
1070х570х920 mm
Weight, kg
270 kg
Tags: Folding machine FP