...

Electromechanical guillotine Metal Master ETG 1530E
Electromechanical guillotine for cutting and shearing metal 1500x3 mm
Электромеханическая гильотина Metal Master ETG 1530E

2,200.00 x 1,100.00 x 1,300.00 mm
DESCRIPTION OF THE MACHINE ELECTROMECHANICAL GUILLOTINE METAL MASTER ETG 1530E
The machine has a welded sheet steel body. It is equipped with a bottom drive, the spindle is located under the work table. This ensures a compact design and smooth operation of the machine.
The working part of the machine is a welded structure made of solid steel sheet, with good strength and stability, as well as vibration resistance. The rectangular cutting part that can use the four-edged scissors extends the life of the machine. The locking mechanism adjusts the width of the cut sheet within the specified limits. Labor productivity is greatly improved by cutting a large number of sheets of the same width.

Electromechanical guillotine METAL MASTER ETG 1530E is a professional equipment for cutting metal sheets. It is widely used in automotive, shipbuilding, building materials, machinery, and for cutting structural sheet material and other applications. The tensile strength of the cut material should be less than 48 kg / mm. In the case of cutting sheets with high tensile strength, the thickness of the cutting insert should be reduced accordingly. Thanks to the compact welded sheet steel structure, the machine has an improved overall tensile strength.

Knife clearance adjustment – an important condition for cutting quality and knife life. The machine is equipped with a stop-at-point system, which provides a convenient and quick adjustment of the gap.
Main clearance adjustment (Figure 1).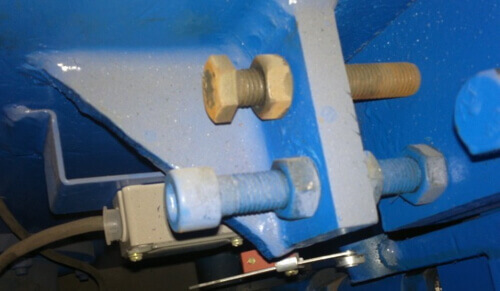 A series of additional fine adjustment screws on the back of the cutter holder are used to aid in adjusting the main clearance.
Standard complete set:
Complete machine

Manual in Russian

Set of tools
The warranty for equipment and accessories is 1 year. We deliver equipment throughout Russia and the CIS!

Electromechanical guillotines
Maximum working length, mm
1500
Maximum sheet thickness, mm
3
Cutting angle, degrees
2 ° 14 ′
Number of cuts per minute
33
Backgauge, mm
650
Table height, mm
780
Power, kWt
4.5
Gross / net weight, kg
1020/920
Machine dimensions in packing
2200х1100х1300 mm
Machine dimensions without packaging
2100х1050х1150 mm